PAO's
Deep Sky Astroimaging
Dew Heater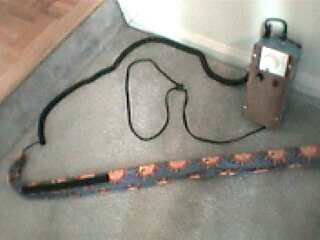 | | |
| --- | --- |
| I created DewBlocker Dew Caps to delay the formation of dew on optics. It's usually all that's needed in my area, but there are those nights when a passive system just isn't enough. | |
| | |
| --- | --- |
| | That's when a powered, temperature controlled heater is necessary. |
A close-up of the scale shows the available heat settings.

The faceplate is plywood.
This fused, adjustable heater is made from a standard four gang outlet box.

It houses a power transformer and a ceiling fan speed controller to regulate the temperature.
| | |
| --- | --- |
| The heater strip is covered in a thin soft cloth with velcro to hold it around the corrector end of the telescope where it keeps the optics just above the dewpoint. | |
| | |
| --- | --- |
| | The heater itself is a commercial product used to keep food service trays warm or pipes from freezing. |
Special thanks to Russ for his expert help with this project.
Click Here to E-mail questions or comments.


This page and all images are Copyright PAO 1998-2002. Images may be reproduced with permission.
Business contingency and continuity planning. Emergency Preparedness Services.